KidGlov Advertising Agency Podcast Hosts Cato Kraft of Estes Park Nonprofit Resource Center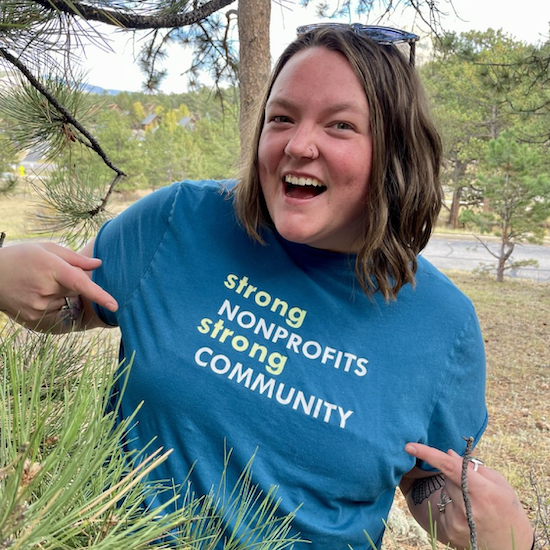 KidGlov, a boutique, full-service advertising, branding and content marketing agency based out of Lincoln and Omaha, Neb., recently welcomed Cato Kraft, executive director of Estes Park Nonprofit Resource Center (EPNRC), to its podcast, Agency for Change. The episode explored how the resource organization helps Estes Park nonprofits thrive and connect. 
"Few people are as passionate as Cato Kraft is about supporting nonprofits," said Lyn Wineman, KidGlov president and chief strategist and host of the Agency for Change podcast. "Cato and her team are amplifying the impact of local nonprofits while fostering a sense of community. It was inspiring to have her on the podcast and hear more about her initiatives." 
The Estes Park Nonprofit Resource Center (EPNRC) elevates local nonprofit impact. Their mission is to support, connect and inspire community nonprofits. The values of the EPNRC are capacity building, community and collaboration. Capacity building is about inspiring nonprofit organizations in the quest of performance improvement, effective stewardship of resources and organizational sustainability. The second value is placing community interest over self-interest; and collaboration means nonprofit organizations working together, and with the business and government (public) sectors to continually improve the quality of life for the Estes Park community.
During the Agency for Change podcast, Kraft explores what led her to lead the EPNRC, what it's like being a young leader in the nonprofit sector, and the unique aspects of Estes Park and service organizations. 
"I truly believe that when you have a strong nonprofit sector that is being supported, that is having their needs met, that their morale is high, because they know that they matter in this community, that's when your strong community emerges," said Kraft. 
The full Agency for Change episode can be found on KidGlov's website, on YouTube, or wherever podcasts are available. 
To learn more about the Estes Park Nonprofit Resource Center, visit: https://www.epnonprofit.org/. 

The Agency for Change podcast from KidGlov marketing and advertising agency brings stories of people creating positive change in the world. From large companies and nonprofit organizations to small advocacy groups and solo agents for change, the program explores what inspires these changemakers, the work they're doing, and how they share their message.

The advertising agency's podcast releases new episodes every week. Listeners can hear the show on major podcast platforms like Apple Podcasts, Spotify, Pandora, iHeartRadio, or on KidGlov's website.

KidGlov is a boutique, full-service advertising, branding, and content marketing agency, as well as a certified B Corp, with offices in Omaha and Lincoln, Neb., which specializes in nonprofit marketing, healthcare marketing, financial marketing, social impact marketing, and purpose-driven businesses. It has been named one of the Best Places to Work in Lincoln, and has won several accolades for its work, including awards from the American Marketing Association and the American Advertising Federation. Learn more about KidGlov on their website, or by visiting their offices in Omaha at 2120 S. 72nd Street, Ste 640, Omaha, Neb. 68124, and in Lincoln at 1230 O. Street, Ste 111, Lincoln, Neb. 68508.