KidGlov Advertising Agency Podcast Hosts Humanities Nebraska Executive Director, Chris Sommerich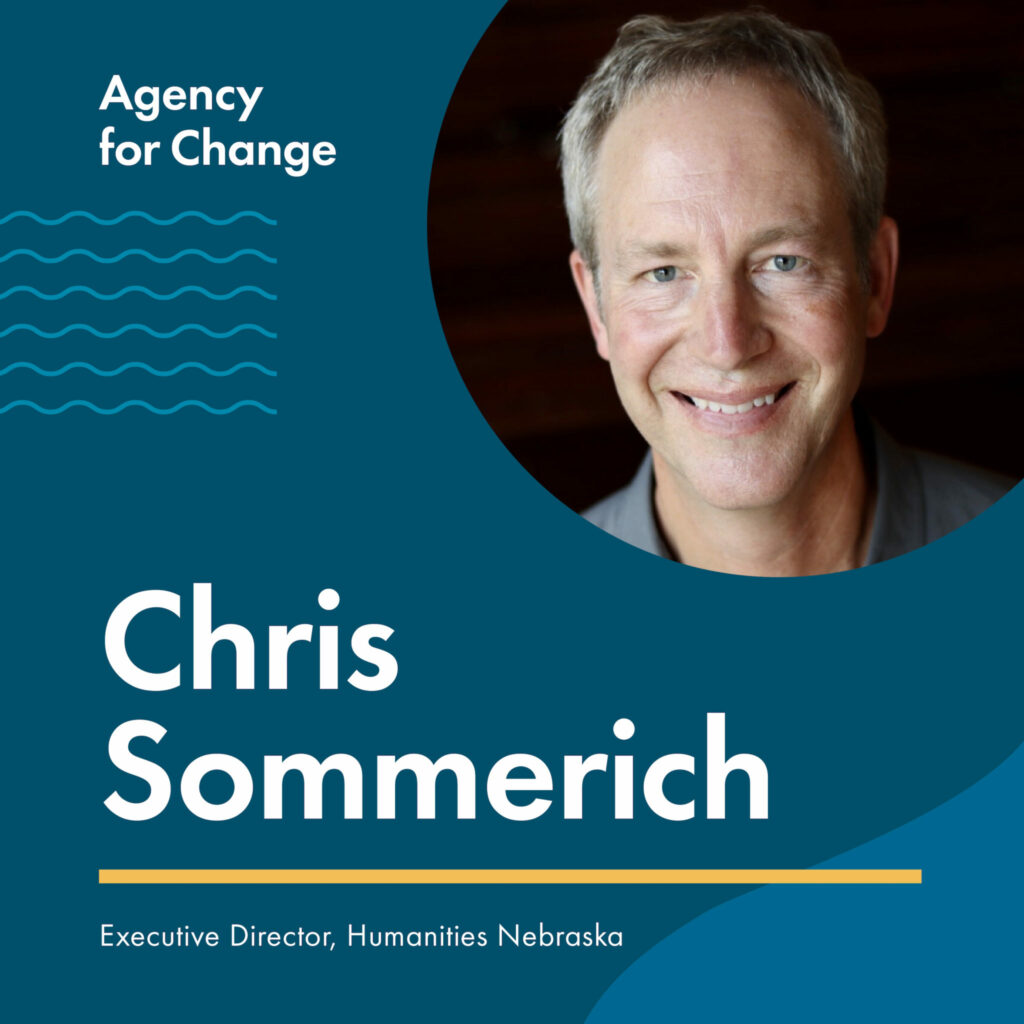 KidGlov, a boutique marketing and advertising agency based out of Lincoln and Omaha, Neb., was proud to host Chris Sommerich, executive director of Humanities Nebraska on a recent podcast episode of Agency for Change. Humanities Nebraska is an organization helping Nebraskans explore what connects us and makes us human. In the episode, Sommerich explores how the organization helps support humanities programs across the state. 
"It was a delight to sit down with Chris Sommerich and learn more about Humanities Nebraska," said Kelley Peterson PCM, KidGlov nonprofit creative director and a host for the Agency for Change podcast. "Exploring what makes us human is such an inspirational endeavor. Humanities Nebraska is making an incredible impact on our state, and it was a pleasure to help share their message." 
"Humanities is about exploring what it means to be human," said Sommerich. "It's about bringing people together, people coming together to see how you relate to others around you as individuals, as a community, as a state and nation and as global citizens." 
Sommerich was named Humanities Nebraska executive director in 2011. He joined the council as development officer in 2004 and became development director in 2007. After shifting to support humanities organizations during the COVID-19 global pandemic, Sommerich and the staff at Humanities Nebraska are reengaging through in-person community events. In September, the organization will facilitate the state-wide tour of the Smithsonian exhibition, Crossroads: Change in Rural America. Later this fall, Humanities Nebraska will bring Henry Louis Gates Jr., host of Finding Your Roots on PBS, to speak at the Holland Center in Omaha. 
The full Agency for Change podcast episode with Sommerich can be found at https://kidglov.com/podcast/chris-sommerich/ or on any major podcast platform.  
Humanities Nebraska, a statewide nonprofit organization, was established as a state-based affiliate of the National Endowment for the Humanities. Over the last four decades, the group has provided grants to nonprofit organizations conducting public humanities programs, brought in nationally renowned speakers through its speakers bureau, hosted special events and exhibits, and connected students with the humanities through an array of programs. Learn more about Humanities Nebraska at https://humanitiesnebraska.org/ 
The Agency for Change podcast from KidGlov marketing and advertising agency brings stories of people creating positive change in the world. From large companies and nonprofit organizations to small advocacy groups and solo agents for change, the program explores what inspires these changemakers, the work they're doing, and how they share their message. 
"This podcast is all about inspiration, and how each of us can play a part in making the world a better place," said Lyn Wineman, KidGlov President and CEO. "We've been working with organizations and companies for over a decade that have inspired our team through their works and missions. We knew these stories of inspiration, and many more out there, deserve to be heard and that's why we created the Agency for Change podcast."
The advertising agency's podcast releases new episodes every week. Listen at kidglov.com/agencyforchange or on any major podcast platform. 
KidGlov branding agency offers a full array of marketing services from strategic planning and traditional marketing to the latest in digital and social media. This highly experienced team has worked across industries and is quickly becoming a resource for local non-profits whose missions align with their own. KidGlov has won several accolades including top honors at the American Marketing Association awards in Lincoln and Omaha. They've also been acknowledged at the American Advertising Federation Nebraska Awards and have been named one of the Best Places to Work. Learn more about the advertising agency at KidGlov.com, or visit their Omaha office at 105 South Washington Street, Papillion, Nebraska 68046.

​