​Millard Sprinkler Sets the Bar High in Residential Sprinkler Installation Service in Omaha, Nebraska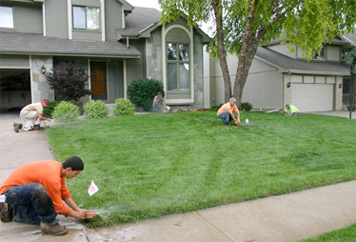 Summary – Millard Sprinkler, a front-running installer, repairer, and maintainer of sprinkler systems in Omaha, invites clients to check out its updated website for relevant information regarding their preferred lawn irrigation projects.
Omaha, Nebraska – Maintaining immaculate lawns goes beyond regular trimming and includes the preferred irrigation mode. As a result, it all boils down to the sprinkler system design a client chooses to keep their lawn looking green all year round. Millard Sprinkler is considered by many to be an industry leader that has remained at the forefront of supplying, installing, repairing, and maintaining top-quality residential sprinklers in and around Omaha, Nebraska. Its technicians always go above and beyond to impress their clients whenever they take on any sprinkler system installation project. As a result, their remarkable services continue to set the bar high for other installation companies, earning them a much-deserved position among the region's most trusted residential sprinkler installers.
While commenting on their experience with the Millard Sprinkler's technicians, one impressed client said, "You and your company were professional from start to finish. You returned my call promptly and came out to do the estimate just when you promised. My system was also installed in a timely manner, even though I decided to have it done during the peak time of the summer."
To keep Omaha residents informed about some of their latest services, Millard Sprinkler maintains an easy-to-navigate website packed with information about its different services. Company experts advise any Omaha client considering installing a home sprinkler system to use this resource in exploring available options before making their selection. Keen on remaining Omaha's one-stop shop for all irrigation requirements, Millard Sprinkler provides a full spectrum of sprinkler services to suit every client's unique requirements. Its technicians are the go-to experts for new installations, tune-ups, expansion, modification and repair services. 
The employees from Millard Sprinkler take great pride in providing each client with tailored irrigation solutions guaranteed to meet their specific requirements. They begin each process with an extensive consultation session to determine each client's preferences and then design solutions from there. The team has a lot of experience designing sprinkler systems to meet clients' needs and those of their lawns. As a result, they tailor each system to suit the specifics of the property's terrain, water consumption needs, and other specifics. To ensure minimal inconvenience to the residents, the company sends a crew of highly-skilled and experienced workers to install the sprinkler system.
Besides installing and repairing sprinkler systems in Omaha, Millard Sprinkler technicians also help with winterization. As part of their winterization services, the company helps its clients shut down the sprinkler system, remove the water, and turn off the clock to protect the system from possible damage as colder months start to come in. Visit Millard Sprinkler's website for more information regarding its services. A company representative is always available at 402-894-1199 to answer any queries. The company is located at 13235 Chandler Rd #C, Omaha, Nebraska, 68138, US.