​KidGlov Advertising Agency Podcast Hosts, Topher Hansen, CEO of CenterPointe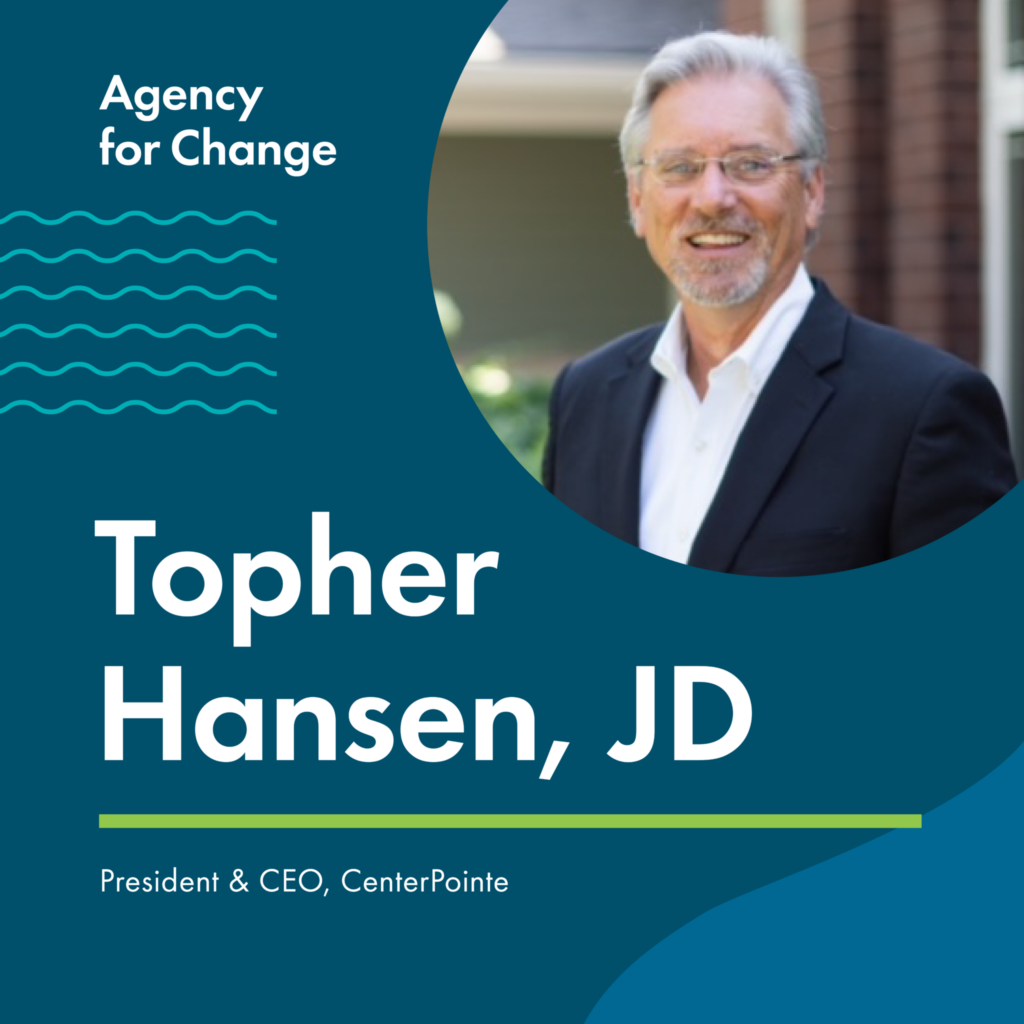 KidGlov, a boutique marketing and advertising agency based out of Lincoln and Omaha, Neb., was pleased to welcome Topher Hansen, president and CEO of CenterPointe, to a recent episode of its Agency for Change podcast. The podcast explored the organization's many programs supporting those suffering from mental health and substance use disorders. 
"CenterPointe is an incredible organization with dozens of programs benefiting the community," said Kelley Peterson, "At their core, CenterPointe pushes boundaries to find better ways in helping people be well." 
Topher Hansen, president and CEO of CenterPointe has led the organization for over 20 years. Grounded by the solid belief that every person has the ability to recover, CenterPointe makes pivotal treatment available for people suffering from mental health and substance use disorders. Meeting people where they are and supporting them to gain control of their lives is what CenterPointe aims to do. They treat the whole person and offer a full continuum of care including treatment, rehabilitation and housing for individuals who are experiencing homelessness and/or are low-income. 
"We've listened to the people we serve and understand that in order to address substance abuse issues, we also need to address mental health, primary care and housing," said Hansen. "That's how we've served for nearly 50 years, by listening to needs and treating the whole person." 
The Agency for Change podcast episode explores the many great works of CenterPointe's 40 programs and how the organization shifted during the pandemic to adopt telehealth services for supporting growing mental health concerns. Hansen also shares his sustainable-first approach to leadership and how the organization is planning to celebrate 50 years in operation in 2023. 
The full Agency for Change podcast episode with Hansen can be found at https://kidglov.com/podcast/topher-hansen or on any major podcast platform.  
Learn more about this organization at https://www.centerpointe.org/. 
The Agency for Change podcast from KidGlov marketing and advertising agency brings stories of people creating positive change in the world. From large companies and nonprofit organizations to small advocacy groups and solo agents for change, the program explores what inspires these changemakers, the work they're doing, and how they share their message.
"We believe in inspiring messages and changemaking organizations," said Peterson. "We began this podcast to share those stories of individuals, businesses and organizations who inspire us and our work at KidGlov."
The advertising agency's podcast releases new episodes every week. Listen at kidglov.com/agencyforchange or on any major podcast platform.
KidGlov branding agency offers a full array of marketing services from strategic planning and traditional marketing to the latest in digital and social media. This highly experienced team has worked across industries and is quickly becoming a resource for local non-profits whose missions align with their own. KidGlov has won several accolades including top honors at the American Marketing Association awards in Lincoln and Omaha. They've also been acknowledged at the American Advertising Federation Nebraska Awards and have been named one of the Best Places to Work. Learn more about the advertising agency at KidGlov.com, or visit their Omaha office at 105 South Washington Street, Papillion, Nebraska 68046.